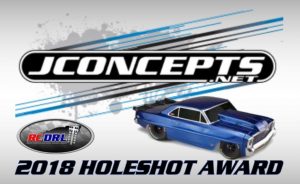 The Radio Controlled Drag Racing League would like to welcome JConcepts to the 2018 season, via the newly named… "2018 JConcepts Holeshot Award!" This award will include all RCDRL points series events in both Louisiana and Texas including the Rockstar Powder Coat US Super Nationals held in June 22-24, 2018.
Awarded at each race for all divisions, the "Hole Shot Award" is a very nice glass root beer style mug with similar artwork as the award plaques. This mug is awarded to the best "First Round Reaction Time" in each class combined on race day/weekend. In the event of a tie with drivers cutting a perfect .000 light, each driver will be awarded a mug. Any other ties will be determined by a one reaction time race tiebreaker.
Note: At the Rockstar Powder Coat US Super Nationals, each class will have a winner of a "JConcepts Holeshot Award" mug.
JConcepts is a Florida-based R/C design and manufacturing company. Owner and president, Jason Ruona, has been involved with Radio Control cars since the 1980's. Early beginnings include building and driving such vehicles as the Tamiya Clod Buster, the Team Losi JRX-T and Associated RC10 and RC10T. The 1990's were spent as a Team Associated travel team driver racing at events all around the world. Now, decades later, Ruona is proudly selling quality bodies, tires, wheels, and accessories to R/C racers around the world including the newly released Street Eliminator 1966 Chevy II Nova body.
Visit: http://www.jconcepts.net/
http://www.jconcepts.net/shop/1966-chevy-ii-nova