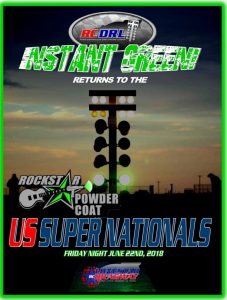 Attention Pro Mod and Pro Stockers! Friday night June 22nd at the Rockstar Powder Coat U.S Super Nationals, we are doing another Instant Green Cash Shoot-out! The feedback last year was really good and drivers seemed to really enjoy it.
If you are interested let us know. It will run just like last year, after Test-N-Tune Super Friday, we will go into the Shoot-Out!
Instant green, chip draw for pairings with 1st round only call outs. $20 entry, "WINNER TAKE ALL" unless the 2 finalist decides on a split.
For any questions, please click here: http://www.rcdrl.com/contact-us/
The race will be run by The Mares Boys Racing Team, David & Jacquelyn Mares.