5th Annual Allmark Impressions Thunder Nationals… Saturday, April 14th, 2018, bring the whole family to TMS! See the Fast Furious Family Fun of RC Drag Racing, talk to our volunteer staff about the league, chat with the Pros, get tips and advice from our friendly RCDRL members.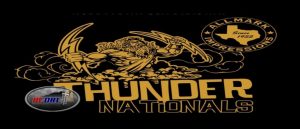 Located at the Texas Motor Speedway between I-35W and the dirt track, the Radio Controlled Drag Racing League (RCDRL.com) welcomes the young and the young at heart. Ladies that includes you too!
The 2018 season is here and we are inviting you to join us! Watch for FREE, race for FUN or become an RCDRL member and COMPETE in a season-long 14 event points Championship Battle! Drag race any kind of RC vehicle, on or off-road. from 1/24 scale to 1/4 scale!
We have members from 5 years old to 75 years young! Everyone is welcome in this family friendly environment! Events are held on a 1/10th scale quarter mile drag strip (132ft.)
14 Events, 10 Classes, 10 Champions… Will you be one?
Nitro or Electric, on or off-road cars, trucks, and buggies are all welcome to come out and have some Fast Furious Family Fun!
BRING your chair, table, pop-up shade covers, cameras and race gear!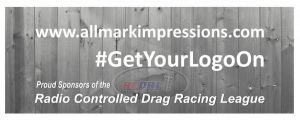 Classes:
Top Fuel (3s) (Pro Tree/ Heads Up Racing)
Pro Mod (2s) (Pro Tree/ Heads Up Racing)
Pro Stock (1s) (Pro Tree/ Heads Up Racing)
Traxxas Pro Funny Car (Pro Tree/ Heads Up Racing)
Traxxas Sportsman Funny Car (2s) (Pro Tree/ Heads Up Racing)
2.50 Index
Quick 16 Bracket
Street Eliminator (Sportsman tree/ handicap start)
All Run Bracket (Sportsman tree/ handicap start)
Young Gunners Bracket (13 years and younger) (Sportsman tree/ handicap start)
**See 2018 class rules at: RCDRL.com**
ALLMARK Impressions Thunder Nationals
Setup crew: 6am
Registration starts: 8am
Time trials: 8:30am to 9:30am (time permitting) (2 passes per entry limit)
Qualifying: Q1 Then Q2
Eliminations: Directly after Qualifying
Clean up following finals
(All times are subject to change based on weather and other factors)
Members First Class Entry $20
Each additional class entry only $10