R/C Drag Racing
The Radio Controlled Drag Racing League (RCDRL) was founded in March of 2013 with the desire to provide the young, young at heart, and those with special needs the opportunity to enjoy and compete in the thrill of drag racing competition.
League founder, Michael (Mike) Mercadel, had a very special reason for starting the league: his son Joshua (Josh).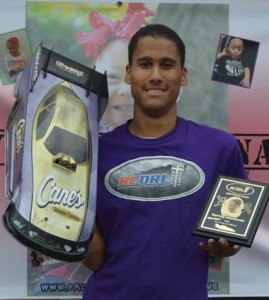 Josh has Asperger's Syndrome and while it has been a challenge at times, he is a blessing to his family. Josh has never been able to play competitive sports due to issues related to his condition: social cues, peer interaction, coordination, etc. However, Mike wanted to find something that he could share with his son that would also give Josh the opportunity to participate in a competitive environment.
Prior to the start of RCDRL, the Mercadels, Mike and Kelly, were a seasoned drag racing family. Their older daughter, Rebekah, was a NHRA Junior Drag racer during her teenage years. Mike thought this could also be an outlet for Josh. Josh, however, wanted no part of it. Driving the cars was overload for his senses. Then in 2012, the start of a new adventure began to unfold.
During the Christmas season, Josh begged for a particular gift: a radio-controlled race car. Seeing how much Josh wanted this and the enthusiasm he seemed to have for it, Mike went for it and bought him the car, the newly released TRAXXAS Funny Car. He also bought one for himself so they could race together. After realizing how much fun he and Josh were having racing each other, Mike convinced a friend and his son to join in on the fun.
At that point, the wheels started turning in Mike's head, and he thought how cool would it be to get a few families together and start a league. And, with that, the RCDRL was born! What started as a hobby for a father and his son is, as of today, a complete league that encompasses three states, Texas, Louisiana, and California, with about 350 registered participants and about 200 current paid memberships.
"We not only do this because it's fun, but because we can offer a platform that allows everyone to compete on an equal level" says Mike.
Giving Back
We also take a special interest in helping those around us. The RCDRL makes contributions on a regular basis to charities such as:
• Autism Speaks
• Coleson's F.R.O.G.
• National Children's Cancer Society
• Plus many others
We believe in giving back and helping others. We have the benefit of having fun and loving what we do; and being able to help those in need is a large part of that.
Statistics*
2016
Participants: 249 (TX:158, CA:60, LA:59)
Largest field of car entries: 225
2015
Participants: 203 (TX:95, CA:48, LA:62)
Largest field of car entries: 106
*Stats are since the inception of DragTrac. Participation numbers by the state do not add up to total unique participants because some racers are counted in each state as they travel. Participants comprise the count of distinct racers at each venue.
★★★★★

based on

18

reviews
Overall rating:
Bringing family fun to a whole new level
★★★★★
"
Joining the RCDRL a few years ago has been a positive experience and adventure for myself and my niece. Their a great group that's all about family and fun in a exciting rc experience you'll enjoy.
"
great family friendly competition
★★★★★
"
the racing is fun for the kids and even though it's a competition many people have willingly helped to make sure our kids where competitive even against the adults. really top notch racers and staff
"
"
I just wanted to start off by saying thank you to Richard Cole, Michael Mercadel, MIke Pfeil and the entire RCDRL family for putting on such an amazing event at the RLC Super Nationals. Also would like to thank my wife Mindy Tobin who came out and helped with races. My little brother Joey Marroccoli who also helped with the kids racing and spent his birthday today driving home and last but definitely not least my dad Joe Marroccoli who made this trip possible for us and my kids. This was a weekend that my family and I will remember forever. We where finally able to put faces with names. In doing so we definitely made some great new friends. I am also very excited to announce that in the near future I will be rebuilding my traxxas jato to compete in the 2wd class with the help of my new sponsor RLC PERFORMANCE ENGINEERING that will be power by another great nitro engine built by the man himself rick of Rb Mods. I also got to meet a legend of the sport Mr Mike Smith. Had some time to sit down and talk to Norris Graves who is also a great guy, Jesse Hernandez, Steves Page Kevin Smith along with countless others from all around the rcdrl nation. I was very proud of my kids this weekend they all did a great job racing. My son Josh Jr who just 12 days ago made 5. For the Saturday race was eliminated in the first round by Paxton Pfeil and made it to the second round of racing for the Sunday race where he lost to Joseph Forbes. My daughter Chloe eliminated herself in the first round of the Sunday race by hitting the Finnish line block after young Dallas Pfeil in the other lane put on the red light but for the Saturday race she made it all the way to the final round to face off with her big brother. My son Thomas for Sundays race lost in the second round to a hole shot victory by Christian Duke who cut an .034 to Thomas' .075 and the margin of victory was .024 and for Saturday's race Thomas got the first round hole shot award cutting a .005 light and went on to take the win for the day against his sister in the finals. As far as myself it was not my weekend for racing having lost in the first round of 2wd to Stuart Montgomery first round of promod to Dennis Forbes and in all run my car left and instantly hit the wall against Dakota Smith I guess we all have bad days but it's racing and my kids did an amazing job and I could not be any prouder of them. Thanks again to all of the great people who help put this weekend on and making it happen even with mother nature raining on us twice Saturday you guys and gals made it possible. In closing we all had a great time and look forward to coming back next year.
"