Mother Nature held out for the 100 eager driver entries lined up to take on the black top and the competition at the IVY LOU NATIONALS in Hurst, TX! The RCDRL Nation wants to thank everyone that not only competed, but contributed to the special raffle that raised $800 for Ivy Lou and her family. Without each and every one of you that would not have been possible. Hats off to the Arnold and Duke families for putting it all together!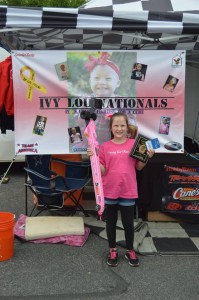 In Top Fuel– Haylee Arnold proved to the Nation that she belongs in the hundred-mile an hour club with the big boys. No need to ever take it light with this young lady because she can hold her OWN! This Sassy Girl Racing pilot sits on top of the leaderboard in Top Fuel. Arnold qualified in the #2 spot with a blistering 1.367 just behind #1 qualifier Jim Little's 1.327. During elimination rounds, Arnold took out Gannaway and Johnson in the early rounds to earn another final round appearance. The #6 qualifier Mike Dees got past Little on a holeshot in round one to earn the bye- run in round 2 advancing him to the finals to face Arnold.
In the finals, Dees knew he needed a good light if he stood a chance against Arnold.  His (RT .007) was almost enough but, Haylee Arnolds (RT .170) 1.375 @ 100mph defeated Mike Dees 1.569 @ 87mph by .031
In Pro Mod- there were 11 competitors battling for the win. Kevin Gannaway of Oklahoma ran the table in this class. Grabbing the Top Qualifying (TQ) spot he advanced to the finals by getting a bye- run in round 1. He got past Darrell Hibbs and Steve Nigri to enter the finals.
On the other side of the ladder, points defending Champion Stephen Burden was making his march to the finals by Willie Thomas and Mike Dees. He received a bye- run to advance to the finals. In the finals, it was Gannaway turning on the win light at the hit of the throttle when Burden went red on the tree.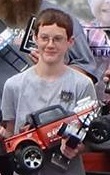 In Young Gunners (13 years and younger) – Kyle Martin coming in from the #7 qualifying spot grabbed early round wins over Grayson Webb, Christian Duke, and Paxton Pfeil before advancing to his first final of the 2016 season.
On the other side of the ladder, first time RCDRL racer Coleson Young of Keller, Texas found himself in the #8 spot after two rounds of qualifying. During elimination rounds- Young outlasted David Hensley, point's leader and Dallas Pfeil and was awarded the bye-run in the semifinals to earn a spot in the finals.
Young made a clean run, but was disqualified for breaking out. (Running under his dial) Even though Kyle Martin had a few problems, his car made it to the finish line under its own power to take the win.  Great day for both of these Young Gunner pilots!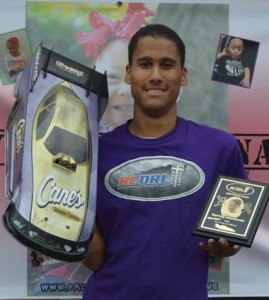 Over in Traxxas Pro Funny Car (3s) – Jerry "Tricky Lu Racing" Lumar made his 2016 debut in style. Representing RLC Performance Engineering he drove his son's hotrod to the TQ spot with a solid 2.276 run during Q2. Defending point's champion and Thunderstruck Racing pilot- Joshua Mercadel after stinking things up a bit at the "Lonnie's Plumbing" season opener showed signs of life in Q1 with a decent 2.467 for the #3 spot. During Q2, he laid down a nice 2.304 @ 64mph that was good enough for the #2 position. In eliminations, J. Mercadel was able to win his first round of the season against Dexter Deel.  He went on to take out Richard Hohnholt and received a bye-run in the semi-final to advance to the finals.
On the other side of the ladder, current point's leader Scott Davis of "SDR" grabbed the #3 qualifying spot with a good looking 2.341 during Q2. In the early elimination rounds, Davis took out Craig Roland, Michael Mercadel, and Jerry Lumar to advance to back to back finals in Pro Funny Car. In the closest final round of the weekend, J. Mercadel outlasted a sizable starting line advantage by Davis and had to drive around him in the lights to claim his first victory of 2016. Tale of the tape- (Mercadel (RT .081 ET 2.318) def. Davis (RT.043 ET 2.361) to win by only (.005) five thousandths of a second!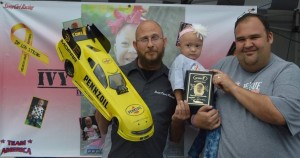 Early Traxxas Sportsman Funny Car (2s) season points leader Annalisa Poddishe continues to impress her competition and quickly gaining the respect she deserves.  Her Black Top Mafia sponsored Funny Car grabbed the #2 qualifying spot during Q1 with a solid 2.638 run. She held the #2 spot throughout the rest of qualifying. During eliminations, Annalisa powered past Kyle Martin in round 1, and earned the bye-run in round 2. She then went on to put Jessey Welch on the trailer to advance to her second Sportsman final in a row of this young season.
On the other side of the ladder, Scott Davis also continued to show a much improved Traxxas Sportsman Funny Car program this year. "After looking at his numbers in early pre-season testing, we knew SDR driver Scott Davis was one to watch!" – Joshua Mercadel
Davis sitting in the #1 qualifying spot with a solid 2.565 was awarded the bye-run in round 1. Then he went on to beat Bill Wagner and Paxton Pfeil to advance to the finals. Davis saved his best run of the day for the finals as he laid down a blistering 2.497 to defeat Poddighe's 2.610. Annalisa Poddighe takes over the points lead in TSFC despite her loss in the finals.

In Quick 16 Bracket- 24 drivers battled for a spot in the field of 16. RCDRL rookie Bill Dees grabbed the #1 Q-spot and advanced to his first final by outlasting, Randy Mayhew, Sharon Dees, and Ashley Arnold. RCDRL veteran and #3 qualifier- Corby Burden also had a good day in Quick- 16 by defeating Paxton Pfeil, Jerry Cooper, and Dead-Eye Jones to face Dees in the finals. What should have been a fast and close race was not to be. Burden's car had problems at the hit of the throttle and Corby could only watch as Bill Dees captured his first win on the RCDRL circuit with a solid run. (RT .029 ET 1.796 on a 1.75 dial) Dees had a total package of a (.075) which would have been tough to beat.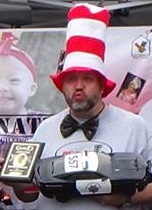 The All Run "King of the Hill" Bracket had a record breaking 28 driver field. Norris "Your Battery Buddy.com" Graves stood on top the hill after qualifying, but lost a close one during early elimination rounds. Defending All Run Champion Randy Mayhew avenged his second round loss at the Lonnie's Plumbing Winternationals by outlasting this 28 car field. Mayhew outlasted Marc Gosselin, Norris Graves, and Rick Welch to advance to the finals. Bill Dees was having a great day. Already the Quick 16 winner, he got past Melissa Young who was the point's leader. Dees went on to outlast Darrell Hibbs, Aleasha Dees, and Jessey Welch to face the champ in the finals. Mayhew defeated Dees in a very close race. The Margin of Victory "MOV" was only .019 at the finish line.  Here's the tale of the tape… (Mayhew (RT .034 ET 4.379 on a 4.30 dial) def. Dees (RT .122 ET 2.110 on a 2.10 dial) = MOV of .019 for Mayhew!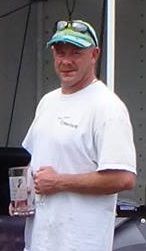 The Power Secrets "PSMods" Holeshot Award winner was Oklahoma's own Darrel Hibbs with a great .009 reaction time in first round. (This award is won by the driver with the best reaction time (RT), win or loss during first round eliminations from all classes combined.)
Special thanks to our race sponsors the Arnold and Duke Family. For the members who hung in there to help with clean up, a big THANK YOU… We do appreciate you! To Jerry Cooper who traveled all the way from Georgia, our Oklahoma neighbors and San Antonio family hats off to you also for your long distance travels to help make each race a true National event!  Hope to see everyone at the April 30th Raising Canes Spring Nationals!