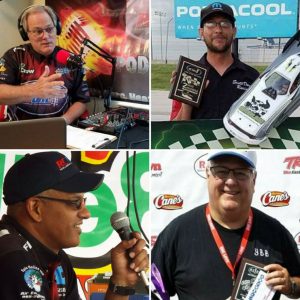 The Boys are Back and they've added a couple of tough hombre's from the Lone Star Dragway to Episode 34. Joining Hosts JD Crow and the Mighty Merc are Scott Davis with his shenanigans and first time guest, Norris Graves of YourBatteryBuddy.com for this Round Table discussion.
We needed 2 hours because this show is going to be packed and full of good material. So tune in as JD and Mike update RCDRL News, a recap of the 163 car count entry "Rudis Motorsports Too Hot To Handle Nationals," heightened by a New Nationals record in PRO STOCK by Mr. Jerry Sheilds of Willis Racing! The Hosts also convinced Norris to open up about himself and YBB. There's the new introduction of a "Member Profile Podcast Feature", Double Tech Tip, and yes, even a little SoapBox item or two.
We've got This Podcast Deep Staged for big MPH. Kick up your heals, tighten your belts, turn up the volume, and enjoy Episode 34…Drivers Watch the Lights!


The RCDRL Podcast Show Facebook Page