Join us April 27th, 2019 for race number 3 of the RCDRL Texas season. On April 27, 2019, the Worlds Largest RC Drag Racing Organization the "RCDRL" will race for a cause. The TJ's Angels Nationals is dedicated to the memory of Tilwen Green II, whom on January 1, 2019, ended his own life. Suicide is on the decline worldwide, but here is the United States it is one of the leading causes of death and is on a steady increase. The time is NOW to talk openly with family and friends.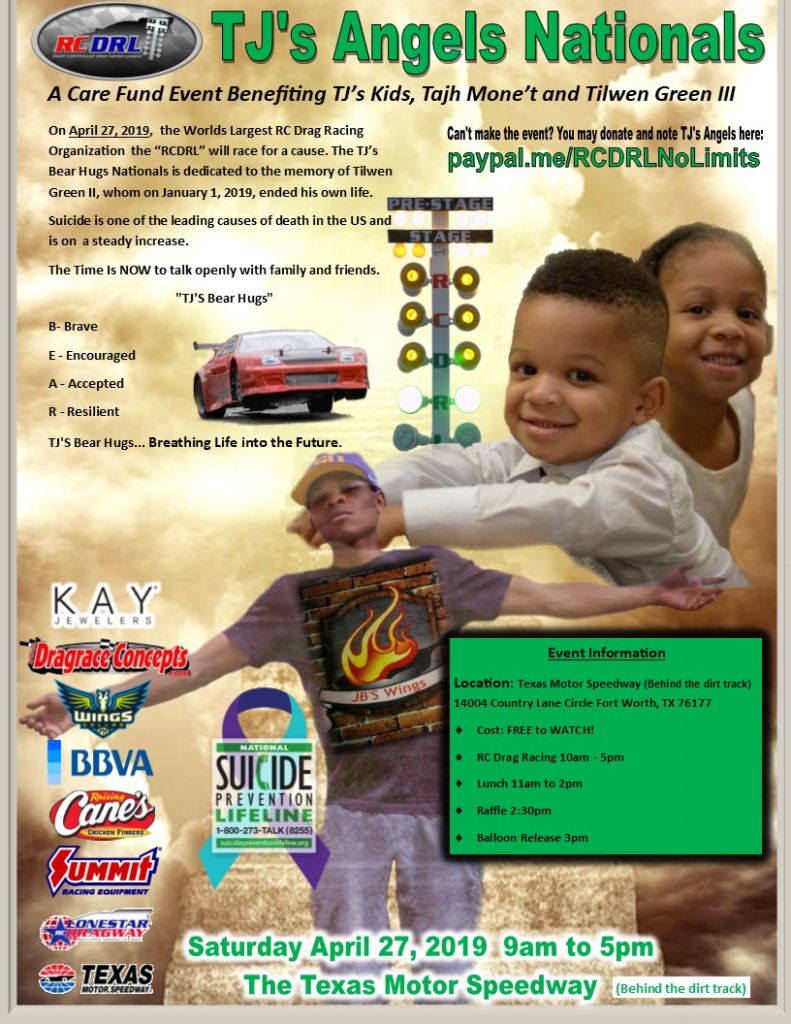 The menu for the TJ'S Angels Nationals is… JB's Chicken wings, Rib tips, Catfish Sides, French fries, Cole slaw, macaroni salad, potato salad, dinner roll, Shrimp and Crayfish pasta! All plates just $8.00. There will be a 50/50 Raffle, Merchandise Raffle, Food, Music, and FUN! Come join the Fast Furious Fun of Championship RC Drag Racing!
Big thanks to,
DragRace Concepts for donating a 2019 DRC SW ProMod Chassis.
Kay Jewelers for donating a (Citizens Men's Gold watch, a Citizens Rose Gold Women's matching watch and bracelet)
Dallas Wings for (2 Tickets to a WNBA game)
An anonymous source for donating 1 autographed football from Dallas Cowboys QB Dat Prescott and an autographed basketball signed by Dallas Wings Center Liz Cambage
Summit Racing Equipment Gift Certificate
Gift basket from Raising Cane's- $50.00 valve
Garca Motorsports Cheetah Chassis
More to come over the next few hours and days from BBVA Compass Bank and others… 👍