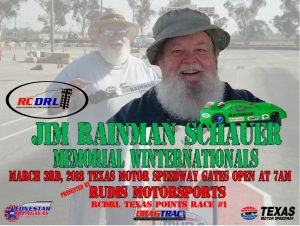 On March 3, 2018 we will celebrate the life of a great pioneer in the RC Drag Racing community. The 2017 RCDRL Hall of Fame inductee Mr. Jim Schauer a.k.a. RAINMAN went to be with the Lord on the morning of January 2, 2018 after a courageous battle with cancer. Jim Schauer helped shape and reshape the RC Drag Racing sport into what it is today.
Presented by Tony Rudis of Rudis Motorsports, the first event of the 2018 RCDRL season will be the "JIM RAINMAN SCHAUER MEMORIAL WINTERNATIONALS" here at the Texas Motor Speedway in Fort Worth, Texas. We invite all to come and compete. Let's kick off the season and honor this late great pioneer!

The RCDRL Texas Division will be collecting raffle items to raffle off in his name. All proceeds from the raffle will be sent as a donation to the ASPCA or Humane Society as requested by the family in recognition of his passing. If you all didn't know Jim liked all animals especially cats or as you would say his kitties.
Please Share on your Facebook and Social Media sites and save the date!
This is a regular points race but ALL are invited!
The classes presented are:
Electric Top Fuel (3s)
Electric Funny Car (3s)
Electric Pro Mod (2s)
Electric Pro Stock (1s)
Traxxas Pro Funny Car (3s)
Traxxas Sportsman Funny Car (2s)
Quick-16 Bracket
Street Eliminator
2.50 Index
All Run Bracket
Young Gunners
There are some changes coming to the 2018 Rulebook but mainly in Street Eliminator. Stay tuned for those changes later this week.