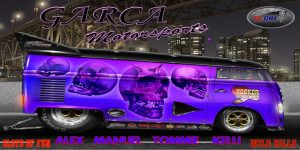 The Garca Motorsports Fall Nationals is race #11 of 12. There will be plenty at stake on the Lone Star RC Dragway, every run is important because a slip up at this point could spell championship disaster.
The time and location is the same as all the rest, but the Fall weather change may make for high drama at an event where titles are on the line!
Drivers Alex, Manuel, Kelli, and Chief Chef Tommie Garca of the Garca Cafe have claimed the title sponsorship rights to this event during the RCDRL Texas playoffs! Come join the Fast Furious Family Fun at the Texas Motor Speedway on the RC Lone Star Dragway Saturday, September 30, 2017.