With high winds and temperatures hitting 104 degrees, it was a record-setting weekend at the RCDRL Lone Star RC Dragway June 22-24.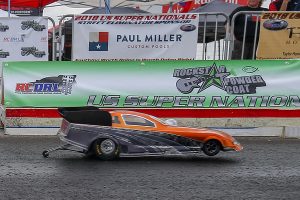 Here are just some of the awesome memories created from the 2018 RCDRL 6th Annual RockStar Powder Coat US Supernationals!
Special thanks to our incredible RCDRL staff: Officials-
Robert St. Pierre, Donnie Johnson, Stephen Burden, Jeff Chambers, Steve Nigri, Carl Russell, Mikey Alsobrooks, Eric Bowman, and Scott Davis.
Stat girls: Kelly Mercadel, Tessa Pfeil, and Regina Alsobrooks.
Event commentators: Michael Mercadel, Jerry Lumar, Jacquelyn Mares, and Annalisa Poddighe.
Event Special Services: Mike Pfeil, Tommie Garca, Heather Bowman, Jayme Bates, Dawn Williford, Dr. Patrick Collins and Randy Mayhew.
To our RCDRL event sponsors, a BIG THANK YOU!
Title Sponsor: 
RockStar Powder Coat and the Howard family
Class Sponsors:
Taylor Home Theater- Young Gunners Bracket
DragRace Concepts-Electric Top Fuel 
J & S Racing- Nitro Top Fuel 
Mike Smith RC Drag Racing Tires- 1/10 Electric Funny Car
Ed Stern Plastic- Electric Pro Mod
Summit Racing Equipment- Traxxas Pro Funny Car
YourBatteryBuddy.com- Quick 16 Bracket
Paul Miller Custom Pools- Street Eliminator 
Rudis Motorsports- Pro Stock 
Summit Racing Equipment- Traxxas Sportsman Funny Car
Reddy Ice- 2.50 Index
Gawne Racing- Quarter Scale 
Paul Miller Custom Pools- All Run Bracket