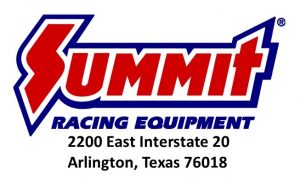 Summit Racing Equipment, an industry leader in distribution of auto racing parts and equipment through catalogs, Internet and now a SUPER-STORE in Arlington Texas, was a hit at the 2018 RCDRL 6th Annual RockStar Powder Coat U.S. Supernationals. Sponsoring both Traxxas Funny Car classes Pro and Sportsman, Summit Racing sponsored two racers also. On the track, the Summit Racing drivers Eric Bowman and Robert St. Pierre overall had a good weekend.
"Summit Racing Equipment and their dedication to community involvement and partnerships with the league will be a rewarding combination in my opinion.  Our goal is to promote Summit Racing Equipment and their Arlington location by way of local creative marketing and targeted store side community RC racing events. We highly value Summit Racing Equipment's mutually beneficial involvement with the RCDRL Championship RC Drag Racing Series."  – Michael Mercadel-President of the Radio Controlled Drag Racing League.
               The Summit Racing Equipment driver Robert St. Pierre of Denton Texas, in his second qualify attempt, St.                   Pierre cut a nice .043 reaction time (RT)  and ran a 1.944-second pass down the Lone S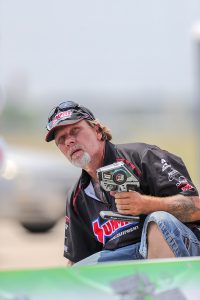 tar RC Dragway. His run was good enough to qualify for the 17th spot come eliminations. St. Pierre faced off against local racer, Davey Goff the number 8 qualifier in first round eliminations. When the tree dropped, St. Pierre was out of the gate first with a better reaction time than Goff and never looked back. Despite running slower on the track, St. Pierre crossed the finish line first and took the win by way of the hole-shot and advanced to Championship Sunday.
1st Round- #17 Robert St.Pierre· .021 RT, 1.745 ET,  75.10 MPH def.  #8 Davey Goff .079 RT, 1.729 ET, 76.9 MPH
In round #2, St. Pierre faced off against class sponsor and chassis specialist Tony Rudis of Rudis Motorsports. Once again St. Pierre cut a better light than his competition, but the horsepower from that Rudis Motorsports entry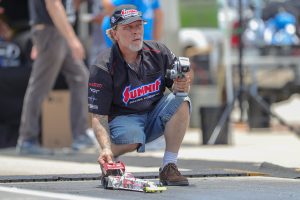 proved to be too much for St. Pierre and Rudis drove around the Summit car and ended St. Pierres hopes in Pro Stock. Notable: Robert St. Pierre continued to proudly promote his new sponsor Summit Racing Equipment through-out the weekend making it to the third round in both in Top Fuel, and Pro Mod.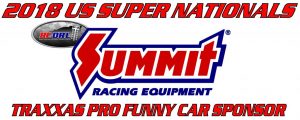 The Summit Racing Equipment Pro Funny car and pilot Eric Bowman was set to go rounds at the Supernationals. At Friday's test and tune, Bowman ran personal best times and was consistent. Already the local points leader and a multi-event winner, Bowman was ready to take on the best of the best.
"I tried a new set up and ran the fastest numbers I have ever run. So needless to say going into Saturday's qualifying I was confident."- Eric Bowman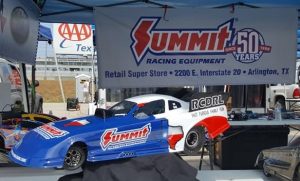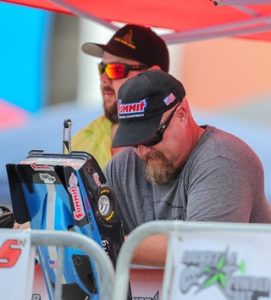 In Q1 on Saturday morning, Bowman just wanted to see his hotrod go A to B. Looking to see what the track was going to give him, Bowman ran a 2.236 which at the end of the round had him sitting it the #2 spot. In Q2, he thought the track could hold the numbers and put in his ace tuneup.  The track was still a little to cool,  and the Summit Racing Equipment Funny car went right into tire shake and smacked the wall. Bowman would go into eliminations as the number three qualifier.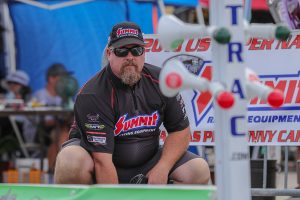 During first-round eliminations, Bowman was matched up against #14 qualifier and event title sponsor Rockstar Powder Coats very own Chad Howard. The tree dropped and Howard was late off the line with a .172 RT and a 2.250 ET to Bowmans .048 RT with a 2.192. ET.  Round one was over and  Bowman and the Summit Racing Equipment Traxxas Pro Funny car advanced to Championship Sunday.
E2 Sunday morning. Sunday was a new day and Bowman was against Paxton Pfeil From ProPfeil racing and defending Street Eliminator champion. Pfeil had his Pro Funny car freshened up with Bowman Power the week prior, so Eric knew that he had his work cut out for him. Bowman also knew Pfeil could chop the tree down on you, and cut a good light. When the tree came down, Bowman was early and clicked on the red-light and ended his hopes of advancing to later rounds. Paxton Pfeil .072 RT  2.229 ET def. Eric Bowmans (-).033 RT 2.198 ET.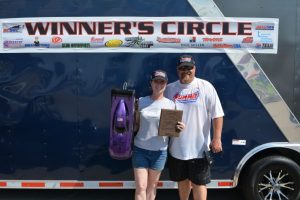 In the End, there was a Bowman Powered pilot in the Summit Racing Equipment Pro Funny Car final. "SHE" goes by the name of Heather Bowman, wife of Eric. Heather came in as the #7 qualifier and got past #10 Kelli Garca in round 1. Heather drove around #2 Dennis Forbes in round 2. In the semi-finals, Bowman blasted past #6 Paxton Pfeil to advance to the finals. Bowman was the only female finalist, went on to defeat the 2017 Supernationals champion, and #1 qualifier Scott Davis. She also reset the Nationals ET record to boot!  #7 Heather Bowman  .040 RT / 2.090 ET, def. #1 Scott Davis  .054 RT / 2.268 ET 
Notable: Eric Bowman went on to runner-up in the Reddy Ice 2.50 Index class.
One of the biggest surprises of the weekend came in the Summit Racing Equipment Traxxas Sportsman Funny Car class. Rookie driv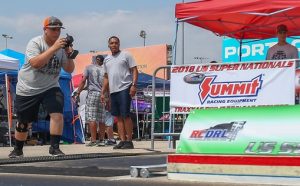 er out of the Toad Racing camp Zach Shivers came in as the #13 qualifier. Zack had never won an event before but had been grinding hard to get to the Winner's Circle since discovering the RCDRL.
#13 Shivers on paper could not have drawn a tougher competitor, #4 qualifier Eric Bowman. In a huge upset, he got past- local points leader Bowman in round one by only 7 thousandths of a second (.007) at the finish line. In round 2, he faced off against teammate Colby Taylor, and in another good old drag race, Shivers came around Taylor in the lights for the win.
It looked like lady luck was about to end for Shivers. In the semi-finals, he was matched up against #1 qualifier and 10-time RCDRL Champion Dennis Forbes of Louisiana. When the tree dropped, Zack cut a .086 reaction time to Dennis Forbes .122, and the ZACK ATTACK never looked back! Forbes had problems and had to click off, Zack went on the run a solid 2.505 ET for the win and to advance to the finals!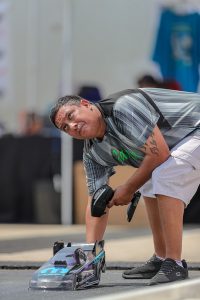 On the other side of the ladder, #6 qualifier Manual Garca was making his way through the field as well. Garca took out Toad Racing driver Trace Faulkner in round 1.   Garca got past the "IceMan" Chris Hernandez in round 2, and in the semi-finals drove past #2 qualifier driver Scott Davis.
This Final on paper looked to go either way. Zack had Lady Luck and momentum on his side but Manual Garca was a proven multi-event winner and had experience on his side.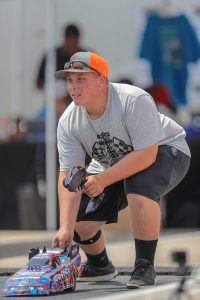 When the tree drop Zack was ready and out of the gate first cutting a good .055 light to Manuels sleeping .194 reaction time. Manual then had tire shake and had to click off and Zack Shivers of Brock Texas went on to win his first RCDRL event! He did it on the biggest stage out there! The Summit Racing Equipment-sponsored class at the 2018 Rockstar Powder Coat US Supernationals!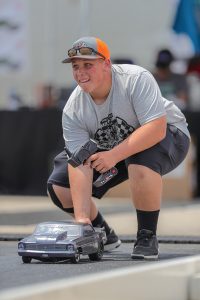 Notable: Zack Shivers went on to also win the Street Eliminator class becoming the only "Doule Up" winner at the 2018 RCDRL Super Nationals! More on Street Eliminator in the coming days.
Photo Credit: Tommy Hays Photography