Registration for the RCDRL/RLC Super Nationals will go as follows:
One-time $25 track fee.
All class entries, with the exception of the Young Gunner class, will be $25.
Young Gunner Class fees are FREE to Enter -Sponsored by Friends of the RCDRL
Non-members will be subjected to a one-time $20* membership fee and will be good for the remainder of the 2017 season at any of our participating division tracks.
*Complimentary membership t-shirt not included.
PreRegistration is open for this years SuperNationals.
Members – PreRegister on DragTrac
Non-Members – Submit PreRegistration Request on RCDRL.com
NEED A HOTEL? ***No On-Site Over Night Camping***
We have rooms blocked at a special discount rate till May 21, 2017. You MUST CALL the hotel and ask for the RCDRL discount.
Holiday Inn Express & Suites Fort Worth North – Northlake
13501 Raceway Drive
Northlake, Texas 76262
(817) 490-9400
or
Motel 6
13601 Raceway Dr, Northlake, TX 76262
(817) 541-3625
AboutRegistrationSchedule of EventsClassesSponsors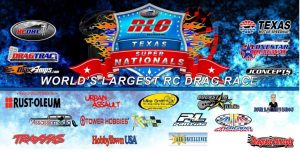 Highlighted Rule Reminders:
• 5 mph return road rule
• 2-minute MAX call time to starting line
• 10 min. repair time must be declared before drivers name and class is called
• 2-minute MAX staging time
• Cars with TSM or other driver steering assist devices must be declared prior to racing. Must be removed from vehicle.
• The RCDRL employs the First or Worst Rule (Please see 2017 Rule Book)