Good evening RCDRL Nation, we have landed a Young Gunners class sponsor!
ALL YOUNG GUNNERS CLASS FEE'S WILL BE WAVED!
Please help me welcome "Taylor Home Theater" to the 2018 RockStar Powder Coat US Supernationals!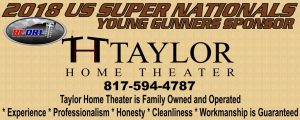 Taylor Home Theater (taylorhometheater.net) is family owned and operated. They have been in the Home Theater industry since 2004 and the electronics industry since 1993.
Taylor Home Theater specializes in home theater design and installation, home theater installers, media room design, and installation. Also, plasma, LCD, LED tv installation, home theater seating, home theater systems, surround sound setup, custom home theater installation, flat screen tv mounting, whole house audio and more in many North Texas cities.
"We always treat all of our customers and your homes with respect and professionalism."- Mike and Tanya Taylor
For Professional Home Theater Installations in Fort Worth and the surrounding cities, Call 817-594-4787 / Visit: http://taylorhometheater.net