Home of the 2018 RockStar Powder Coat US Supernationals Texas Motor Speedway Track Address is; 14004 Country Lane Circle Fort Worth, TX 76177.
Building on its successful partnership with the Radio Controlled Drag Racing League (RCDRL), Chad and Stephania Howard, owners of Rockstar Welding & Powder Coat, LLC, announces its return to the league in 2018 as title rights sponsor for the 2018 "ROCKSTAR POWDER COAT US SUPER NATIONALS"  the worlds largest RC Drag Racing event. The weekend event will be held June 22nd – June 24th, 2018, at the Texas Motor Speedway on the Lonestar RC Dragway in North Fort Worth Texas.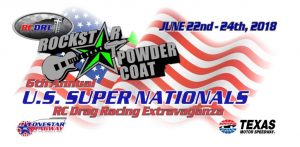 The ROCKSTAR POWDER COAT US SUPER NATIONALS is the BIG GO of RC Drag Racing and this year brings drivers and teams from all over the planet. Teams from Australia, Puerto Rico and coast to coast here in the US are getting set for the BIG GO!
Based on the positive response it has received as a local sponsor during the 2017 RCDRL Texas points series, Rockstar Welding & Powder Coat, LLC, is also proud to increase their commitment and renew its sponsorship for the 2018 season by sponsoring the 6th annual special 3 day RC racing event.
"The RCDRL shares our values of excellence and innovation," said Chad Howard, he goes on to say; "We're thrilled to build on our relationship with this outstanding organization and its teams to help showcase ROCKSTAR POWDER COAT as a leader in powder coating service. We offer a 10′ x 10′ x 30′ Oven, 12′ x 10′ x 30′ Spray Booth, Phosphate Cleaning, and in-house blasting., with a full in-house metal fabrication with pickup and delivery available nationwide… A true one-stop shop!"
Learn more about Rockstar Welding & Powder Coat, LLC visit: https://rockstarwelding.com/powder-coat/
Contact us at:
8490 S HWY 377 Pilot Point, Texas 76258
Phone: (940) 488-4144
Email; Chad.howard@rockstarwelding.com
Links to Super Nationals Pages
About
Registration
Lodging
Schedule
Classes
Sponsors