For those that do not know, we do have a rules committee that takes pride in their position with the RCDRL. They take time out of their day and weekend to help shape and build this league. They're from many different backgrounds of RC both in class categories and experience. Much is asked of them, and they are highly appreciated.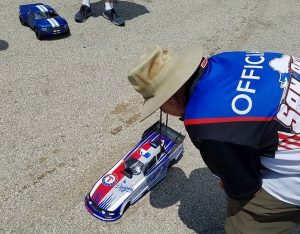 When there is a change to a rule, it is discussed and voted on after reviewing all points from each person. Structure-based racing is still based on our motto of Fast, Furious, Family, Fun. When something has structure, it sets the foundation. With a firm and strong foundation, it helps with reducing the risk of failure by having a quality-based program.
With all that said we realize we will not be able to please everyone. Some of the changes for the 2018 season will affect some of our members as it has affected me with my Losi-8 basically being ousted from Street Eliminator. However, I will support this move from the board and roll with the punches.
Here are some of the other changes you can expect in 2018 to further enhance our racing experience.

Inspection and Certification of bodies and chassis. There will be a special "Inspection and Certification Day- January 27 & February 10th" (At HobbyTown USA-Hurst, Texas) and February 24th at the first Test-N-Tune at the Texas Motor Speedway.
No RCDRL inspector will tech there own declared classes. i.e. Robert St. Pierre will not tech Pro Stock, Pro Mod or Top Fuel. But Robert will tech Traxxas Funny Cars. Same with Eric Bowman will not tech Traxxas Funny Cars… etc.
Tech ALL heads-up class cars based on the rulebook for 2018. Cars will be certified, logged and stamped with a certification sticker. If cars are later to be found "Out of Spec" "After" being certified, there will be a 30 point penalty and disqualification levied on the driver. (If you are unsure of a change you have made, simply have it recertified and KNOW the Rulebook.)
Dragtrac is currently being reprogrammed to randomly pick drivers to be teched during elimination rounds throughout race day. Stay in SPEC!
Please note… We don't feel like we have a problem with people cheating. However, it's time for us as an organization to tighten up in this area a bit.
Other items: Some new items, others will be just better defined in the rulebook.
1. Cars must break the beams on the starting line or will be disqualified. (Regardless of what happens in the other lane when racing someone. Bye runs don't apply to this. and no you can not touch or push your car forward.)
2. Car inspections post record-setting runs. Driver or team member must not touch the car till after an official has inspected the car.
3. In Texas a total of 14 race events. 8 regular season and 6 playoff race events. (Last year it was 7 reg. and 5 playoff events). Louisiana will remain at 12 events for 2018. (7R/5P)
4. Quick 16 will stay Quick-16 and "NOT" Quick 8. Note: 16 fastest cars (2.5 or quicker. You must run quicker than  2.50 to qualify for this class in 2018. After all, it's a "QUICK" Bracket Class" No more 16th seeds racing the #1 seed with a 5 second dial-in.)
5. Street Eliminator Class defined for the 2018 RCDRL Season:
• Performance-based ET Qualifying. Bracket dial-in during elimination rounds
• 2 Wheel or 4 Wheel drive for 2018. Phasing out 4WD for 2019.
• Wheelbase between (11" – 14")
• Rubber Tires Only
• 2 cell (2s) Lipo Maximum Voltage 8.44 volts.
• 2 Rounds of Qualifying.
• 16 Car Field Bracket Elimination.
• Suspension: A quarter inch movement in rear suspension mandatory. Optional for the front end suspension.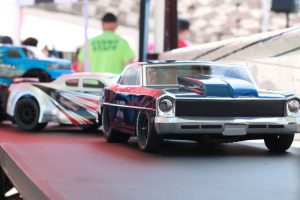 6. Every contestant must qualify at least once in each lane for all classes that qualify more than once. Racers are responsible for keeping up with their own lanes (NOT the STAT Girls). Dragtrac will keep track of what lane racers were in. Your second back to back run in the same lane will be thrown out if caught or protested by an official or a fellow contestant.
7. It is being discussed on whether to continue having Test-N-Tune the morning of race day or a possible idea would be to have 3 rounds of qualifying in the classes with a bump spot. Have 2 rounds of qualifying in the other classes without bump spots. "Currently being voted on by the membership on dragtrac.com"
8. For the month of April, we will have back to back events (April 14 & 21st) April 28th is no longer available per TMS. Please make a note of it.
9. Bring back the Driver's Meeting. (Even if it is for 5 minutes)
10. Must have at least 1 official at the top end of the track, and another at the starting line guarding the centerline stripe. When a call is made Officials will collaborate on what was seen and heard on a call. Make a group decision at that time.
11. When Promod and Top Fuel are running, have more people in place to watch the track. 2 on the top end and 2 near mid-track, and 1 one the starting line. After a call is made, no personal attacks will be tolerated or allowed from anyone. Just WALK AWAY. (Keep it in the GROOVE and the officials won't move.)
12. Drivers must be in the staging lanes when called. A two-minute final warning will be given. After that, the staging lanes will be closed with a rope or chain. (This does not apply to nitro or gas powered vehicles. Nitro/gas engines MUST be ready to come directly to the starting line when called. One engine restart is permitted if the engine quits while staging on the starting line.
13. Pro Stock minimum weight limit changes from 35oz. to 34oz. and will allow HV lipos in this class only. Must be a high voltage approved battery by the manufacturer.   Charged to a max of 4.35volts.
14. Pro Mod minimum weight limit changes from 37oz. to 36oz. No other changes made to Pro Mod.